For the rest of your first week, you'll spend some time getting more familiar with Human Made, including our humans, the company, and our culture. Your buddy will help you get started with some of the specifics related to your job. When you're not doing that, these are things that we like you to focus on during your first week.
It's very important that you are proactive in writing your website bio. Please do make sure you have it done at the end of your first week to prevent people having to chase you for it.
Heads up: there's a handy checklist further down this page that you can copy and check items off from. 🙂
1. Website bio
The first thing you should do is update your website bio on the 🔒 Facts database. You'll need to do this as it'll provide the data to display on your website profile.
There are two steps:
Website bio – step 1: update your Facts profile
We are using a database named 🔒 Facts to store data for display on humanmade.com. You need to log in to 🔒 Facts go to your Extended Profile and look at the Base Public group. This includes all of the information that will be displayed on the website. If you don't want something displayed on the website, do not put it here.
Heads up: Press the Update Profile button to save your data if you want to switch to the Profile tab on the same page. Just switching tabs will not save your data!
You will be able to fill in:
Short description
25-30 words
should include what you do at HM
where you are based
some fact about you
For example:
'As Events Director, Siobhan guides Human Made's events. She lives in Whitley Bay, UK, with her husband, two kids, fluffy cat, and thousands of books.'
Long description
120 – 150 words
should include a brief employment/education history
should include any areas of open source you are active in
could include information about any hobbies you have
For example:
'Siobhan has worked remotely since 2010, as a freelancer, a contractor, and as an employee. She founded her own online writing business, Words for WP, before going to work at Audrey Capital where she wrote a book about the history of the WordPress Project and led documentation efforts at WordPress.org. She is one of the founding organisers of WordCamp Europe and WordCamp London. She has spoken extensively at WordCamps across the world; you can watch her videos on WordPress.tv
Since joining Human Made, Siobhan has been responsible for shepherding the events team, resulting in events such as A Day of REST, A Week of REST, and Out of Office. She also helps out with internal operations and HR. She has recently completed a book about working online which will be published in early 2018.'
❗️ Essential info
Name and job title
Human Made email address (please use @humanmade.com)
Pronoun
Consent – This determines the public use of your profile description and image.
Optional info
Twitter
Facebook
Instagram
LinkedIn
Homepage
Favourite video of you speaking (from YouTube or WordPress.tv)
WordPress.org username
Areas of WordPress you contribute to
Website bio – step 2: take your profile picture
Being a remote team, we don't always have the chance to have professional and consistent photoshoots done, so our team pictures in /who-we-are proved to be a real challenge. To achieve as much consistency as possible we tasked the entire team to take a 'webcam selfie' for their profile page. That is obviously not meant to showcase a stellar quality but a true representation of how we see each other every day when we connect.
How to take your own profile picture
Stay wherever you are and snap a picture of yourself while you're at work. You can use our computer's webcam (e.g. with PhotoBooth on Mac), but you are also allowed to get someone else (or yourself using a selfie stick) to snap a picture of you with a phone. A designer will do the cropping.
Please pose like you are normally working (which in theory doesn't require you to pose at all!). The environment around you plays a crucial role. Whatever it is (kitchen, coffee shop, beach, office, garden…), it's nicer if it's not just a blank wall. If you normally work in front of a blank wall and you feel that wall really represents you, then it's fine. We'll keep it.
You can do any facial expressions you want. You can smile! It's super nice if you're wearing earphones/headphones so we really look like we're all connected, but not a must.
Look for a front, cold light, like a white page on your screen. Avoid windows behind you. Avoid night-selfies. Creativity is well accepted. Go nuts!
Size and format
The bigger the better, ideally 1470+ px width.
JPG or PNG preferred.
Crop
Get close to the camera.
Not too close and not too far.
From half chest to end of the forehead is good – so you can see some hair if you have any!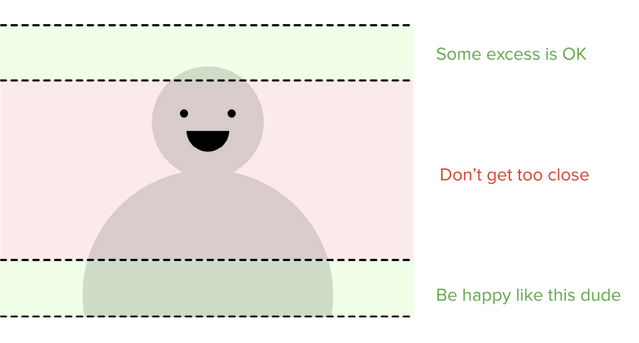 I got the picture, what now?
Please name it name-surname and 🔒 drop it in this folder.
Ping @teammarketing in #marketing-branding on Slack, so they can edit it.
---
Checklist: website bio, profile picture
Now that you have a good idea of what you need to do, you can follow this simple step-by-step guide to ensure everyone has what they need to set up your website profile.
Take your profile picture, upload it, and notify the right people as described above.
Write both of your profile bios (long and short) for your website profile and store them in Facts, as described above.
Additionally, in your 🔒 Facts Extended Profile, fill in at least these other fields:
In your 🔒 Facts (regular) Profile, make sure the field 'Display name publicly as' is set to your full name as it should be displayed on our website.
To add your profile to the website, log into 🔒 humanmade.com and go to Users. Here you have the option of 'Change member type to'; change this to 'Human'.
Do the same on 🔒 jp.humanmade.com.
You're done! 🎉 Your profile is now public on our 'Who we are' page.
If you have any questions about this process, reach out to your buddy!
---
Learn more about Human Made
H2s (previously: P2s)
Now that you're a member of the team, it's a good time to learn more about Human Made and about how we work. That means it's time to get reading  Here's where to start:
Familiarise with Human Made and Altis branding.
🔒 Updates – reading through the archive of updates will give you excellent insight into how the company works. If you read no other H2, make sure you read this one.
🔒 Community – if you're interested in our involvement in WordPress and the wider web development and open source communities.
🔒 Retreat– to learn more about our company retreat.
🔒 Ideas – find out about the wild ideas that humans come up with.
🔒 HR – to find out any recent HR announcements.
Do read through any H2 that takes your interest. 🔒 All of our H2s live here.
Year in review
You can learn more about the company's history by reading through Tom's Year in Review emails, which he sends out at the end of every calendar year.
Meet the team
If you haven't already been introduced to the team during your trial you'll be introduced to everyone on the bi-monthly team hangout. These hangouts are an opportunity for the entire team to check in with one another. At your first team hangout you'll introduce yourself and everyone on the team will introduce themselves to you.
You should also introduce yourself to 3-5 other humans. Your buddy will help you out and make any introductions you need.
Arrange to co-work with another human
If there's another human in your area, set up some time to co-work with them. This face-to-face time is really important so you can learn more about the individuals that make up Human Made.
In your first 6 months, we encourage you to meet with at least one other human. If there are no meetups or events coming up, and there are no humans in your area, you should plan a trip to co-work with another human. You could go to a conference together or just meet up at one or the other's hometown. Your trial buddy will help you to plan this.
If during your first week you find there's something missing from the handbook, please let us know in #handbook. Feel free to fix typos as you find them. And if you're stuck, check out the Help! page or ask your buddy.